Udwarthanam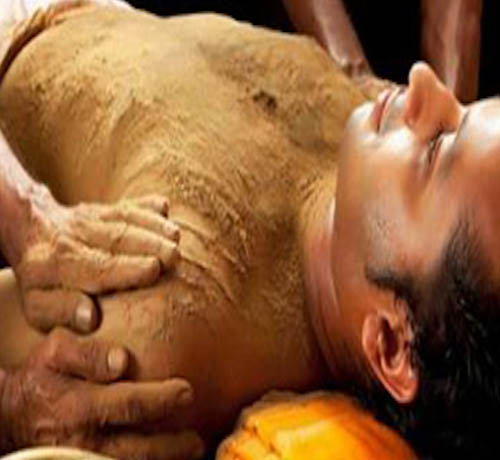 Therapeutic Indications of Udvarthanam
Obesity – highly beneficial for fat reduction
Abdominal Obesity
Overweight
Cellulite breakdown
Preventing loosening of skin under weight loss program
After childbirth, if you get some extra weight
Muscular weakness
Diabetic neuropathy
Decrease mobility to joints due to excess KAPHA, AMA or rheumatoid arthritis.
Removing dead cells from the skin and increasing glow of the skin
Paralysis
Sclerosis of blood vessels
Sciatica of KAPHA origin
This is special therapeutic deep tissue massage using herbal powders. The word "Udvartana" refers to elevation and upward strokes during massage. Udwarthanam massage open the parts of circulation, enhances and facilitates and the metabolic activity of the skin complexion. It is useful for decreasing surplus body fat and increase the stability of the extremities.

Therapy for obesity and rheumatic ailments; your entire body is massaged with herbal powders; the heat generated through massage melts the excess fat that is accumulated in the body. After completion, the person is advised to take rest for 30 minutes, followed by a shower with warm water. Specific parts of the body can also be massaged as therapy for obesity. This massage involves upward stroking, where the powder is rubbed forcibly on the body. An ayurvedic massage expert can better perform this massage with special techniques. An ayurvedic expert is a master in some Udvartana techniques that help to break down cellulite under the skin.

This therapy pacifies the excess Kapha Dosha. Cellulite reduction and weight loss happen when it is done continuously for 7-21 days. It improves the blood circulation, rejuvenates the body and improves skin texture. Certain skin diseases can be treated with Udwarthanam.
Benefits of Udwarthanam
Udwarthanam tones and exfoliate the skin, reduce fat tissue and weight, makes skin radiant and glowing, improves skin complexion, removes bad body odour, removes toxins and cleanses the skin.
Book now