Mr Aashish Kumar
Mr Aashish Kumar, a successful Ayurveda doctor & teacher at World Health Ayurveda is teaching and spreading the knowledge of Ancient Indian Science, Ayurveda since 12 years. With the combination of Ayurveda's tri-dosha and Ayurvedic Therapies, he teaches students to create a right and perfect balance between the physical, mental & spiritual part of the body. He worked with some reputed Ayurveda organisation in past. With his utmost professional knowledge and skills, he has been educating many students every year.
Mr Aashish is old handed in Panchkarma Treatment and holds a great expertise in Emotional Block Treatment, Thai Treatment, Acupressure, Reiki and Kundalini Yoga Teaching.
Mrs Sanjana
Mrs Sanjana, a therapist at World Health Ayurveda is very professional in KeraliyaPanchkarma Techniques with having 15 years of expertise in Panchkarma treatment. Undoubtedly, she maintains an active clinical practice with her greater approach to Ayurveda. Her hands have a magic that increases the relaxing aspect of an Ayurveda Therapy. Apart from Panchkarma Therapy, she is specialised in Marma Treatment, Aroma Treatment and Swedish Massage.
Mrs Sanjana is having a great experience in treating the female problems including Gynaecological Disorders, Paediatric Ailments and Geriatrics Problems. Certainly, the relaxing Ayurvedic Therapy with the magical hands of Mrs Sanjana will be greater than your expectations.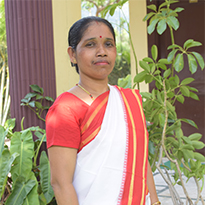 Miss Kiran Negi
Ayurveda Therapist at our Ayurveda Centre in Rishikesh, World Health Ayurveda. Kiran Negi is having 5 years of professional experience in Ayurveda Therapies. Her treatment is exactly like her personality, i.e., Pleasing and Beautiful. The soft-spoken Ayurveda Therapist of our centre holds a special magic in her therapies. She has a great experience in Skin Beauty Treatments. She performs therapies & treatment with utmost proficiency with the simple aim to provide relief to the patient.
Apart from an incredible and magical knowledge of various Ayurvedic Therapies. Miss Kiran Negi is very well-experienced for herbs identification and uses. She holds a knowledge of choosing the right herb for the right treatment.
Dr Prateek Singh Rawat
Dr Prateek Singh Rawat is a well experinced , popular and qualified Doctor in Rishikesh, India. Having a deep insight of classical ayurvedic formulations, complex herbal compounds, and traditional treatment modalities of early Indian alchemy. He is a dedicated and experienced Ayurvedic doctor resolutely to research and development of Ayurvedic formulations.He has a great command over the holistic approach used during diagnosis & treatment and the major fundamental aspects of ayurveda. Awarded with Madhav and Dhanwantri awards in his academic years and several scholorships .Being a Master in Clinical Psychology, his eminence in science , theory , clinical practices and devast knowledge to help many to enjoy the wisdom of life.Moreover, he is specialized in various enormous sciences and his excellence in Panchkarma, Naturopathy, Marma therapy is commendable to spread this knowledge in national , international schools and more international Workshops. He has proven excellence in conducting educational forums for promoting ayurvedic treatments and lifestyle changes and organising Ayurveda wellness programs , training thousand of new students and also senior therapists from all over the world in the past five years. During his off day he is offering this further proficient at rendering medical services with human face coupled with counseling and comforting touch. Skilled in Pulse diagnosis, physiotherapy and NLP (Neuro linguistic programming) always make his treatment techniques more unique and significant. His evince expertise in handling a sundry array of emergencies and quick decision to pacify patient suffering prodigious. He always invited to be a guest educator to schools, events because he was popular acclaimed for his worthwhile guest lectures on Traditional ayurveda & yogic science, yogic anatomy, Ayurveda in modern lifestyle . His philosphy wonderfully promoting healthy growth of society and fostering to build a healthy world around. As such he is an Executive member of NIMA and RADA the big popular ayurvedic forums he believes in giving back to the society by voluntarily participating in different social works.