Akshitarpan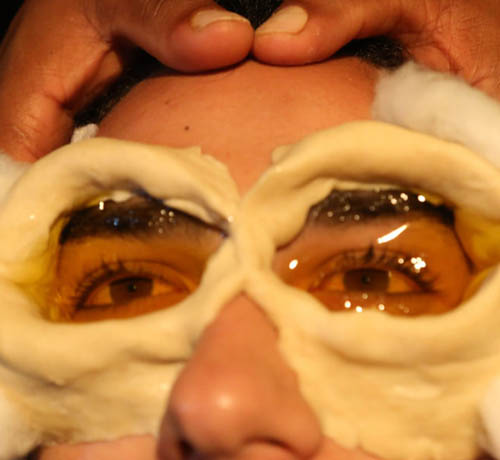 Indications
Burning in the eyes
Dry eye syndrome
Chronic Conjunctivitis
Pain in the eyes
Watering and cloudiness of the eyes
Night Blindness
Corneal ulcers
Squinting
Refractive errors of the eyes.
Early stages of retinitis pigmentosa
Early stages of retinopathy
Ptosis
AkshiTarpan, also known as NetraTarpan is the best therapy to improve your eyesight and vision.

This is a procedure in which medicated or plain unctuous substances like Ghritaare retained over the eyeball for a prescribed period of time as either a preventive or curative treatment modality. It is aimed at providing nourishment and improving the efficiency of the eyes. This procedure is popularly called as Kriyakalpa for eye diseases in Ayurveda, Kriyakalpa literally means treatment.
Akshitarpan Ayurveda has an eye care treatment and rejuvenation program. It is ideally prescribed after the course of body detox program, drilling (therapeutic purification) and a course of Naseem (nose reproduction of medicinal drops).
Duration of the treatment: 30 minutes
In this process, the eye is filled with medicinal oil or ghee for a certain period and asked the patients to lie down comfortably. Then using a black gram dough, a circular boundary is formed around the eye socket with a height of one and a half inch, after which a lukewarm medicinal ghee or oil is poured slowly into the eyes, keeping the eyes closed. During this process, we expect the patient to be calm, stable and keep eyes open and close frequently so that the ghee can remain well in contact with the eyes.
This procedure is done in a few eye diseases with various herbal medicines, such as refractive error, Xerophthalmia and so on. The treatment is also a cure for adding beauty to the eyes.
Benefits
• Balances Vata and pitta doshas.
• Improves vision
• Removes dark circles under the eyes.
• Resurrection and revitalize tired, dry, fat and injured eyes.
• Give strength to the muscles and nerves of the eyes.
• Helps in giving relaxation to the eye strain due to constant glaring of the computer or television screen, due to the precision job like jewelry designing and due to the long-distance drive.
• Protects against the formation of cataracts.

This process is done with different herbal medications in certain eye diseases, like refractive error, Xerophthalmia etc. and this is also a treatment to add beauty to eyes.
Book now