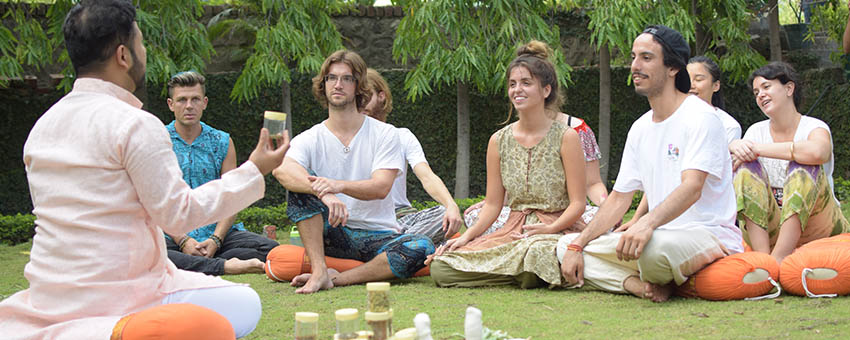 4/6 Days Ayur Yoga Retreat
This vacation plan a trip that benefited your health along with providing lots of enjoyment!

The 4 or 6 days Ayur Yoga Detox Retreat is a program with the blend of the Yoga & Ayurveda. World Health Ayurveda conducts this relaxing & rejuvenating detox program in the yoga capital of the world, Rishikesh.

Experiencing such a pleasure in this wonderful city is certainly beautiful as the natural beauty and god-gifted wonders of the place offer you an immense satisfaction. Surrounded by the Himalayas, Blessed by the Ganga, Covered by the Greenery; Rishikesh acts as an ideal destination to experience this program.

Just a few days and you'll gain an immense happiness! Choose 4 or 6 days detox program as per your availability and reap all the benefits of Yoga & Ayurveda together. The program will help you to maintain a proper balance in your body in a healthy & homely atmosphere.

You will get to learn a lot in this 4 or 6 days Ayur Yoga Detox Program with World Health Ayurveda, Rishikesh, India. The art of Hatha Yoga, Ashtanga Yoga; the art of Meditation; the art of Detoxification; the art of Ayurveda Therapies and many more, you will learn all this in the wonderful program of Ayurveda & Yoga Retreat.

Not only, yogic practice or Ayurvedic knowledge is enough to keep you healthy & happy but the right diet also plays a great role in this and so we provide a healthy Ayurvedic diet to aspirants who visit to experience the beauty of Ayurveda and Yoga together. The Ayurvedic Diet surely helps to remove toxins from your body and stress from your mind. Moreover, we also teach students to cook the Ayurvedic Diet so that they can maintain a balance in their body after the end of the program too.
"So, take Ayur Yoga Detox Retreat at our school and return relaxed and refreshed with a lot of energy!"
4/6 Days Ayur Yoga Retreat Course Dates 2018
| Dates | Events | Price (USD) | Enrolment |
| --- | --- | --- | --- |
| 02 /07/ 2018 - 29 /07/ 2018 | Yoga Alliance USA Certification | $1000 (Private room) | Apply Now |
| 01 /08/ 2018 - 28 /08/ 2018 | Yoga Alliance USA Certification | $1000 (Private room) | Apply Now |
| 01 /09/ 2018 - 28 /09/ 2018 | Yoga Alliance USA Certification | $1000 (Private room) | Apply Now |
| 01 /10/ 2018 - 28 /10/ 2018 | Yoga Alliance USA Certification | $1000 (Private room) | Apply Now |
| 01 /11/ 2018 - 28 /11/ 2018 | Yoga Alliance USA Certification | $1000 (Private room) | Apply Now |
| 01 /12/ 2018 - 28 /12/ 2018 | Yoga Alliance USA Certification | $1000 (Private room) | Apply Now |
4/6 Days Ayur Yoga Retreat Course Schedule
| Timing | Work |
| --- | --- |
| 5:45 AM | Wake Up |
| 6:00 AM | Herbal Tea |
| 6:15 AM - 6:30 AM | Shatkarma |
| 6:30 AM - 7:00 AM | Pranayama |
| 7:00 AM - 8:45 AM | Yoga Asanas Class |
| 9:00 AM | Breakfast |
| 9:30 AM- 10:30 AM | Yoga Anatomy & Physiology |
| 10:45 AM - 12:00 PM | Meditation & Mantra Chanting |
| 12:30 PM - 1:00 PM | Lunch |
| 1:00 PM - 3:00 PM | Self Study |
| 3:00 PM - 4:00 PM | Yoga Philosophy |
| 4:30 PM - 6:30 PM | Yoga Asana Teaching Methodology, Alignment & Correction class |
| 7:00 PM - 7:30 PM | Dinner |
| 10:00 PM | Gates Closed & Lights off |
Book now