Recover yourself with the magical touch "Patra Panda"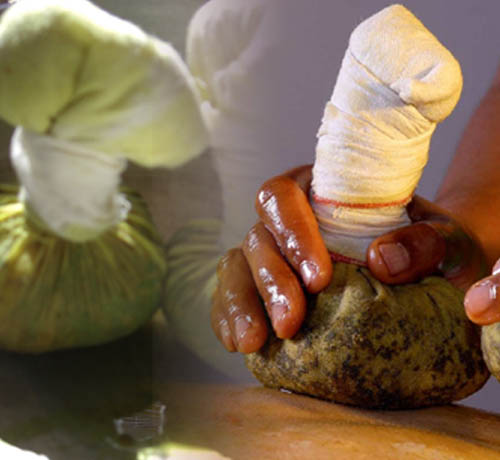 Features of Patrapinda
Spondylitis
Spondylosis
Chronic back pain
Cramps
Myalgia
Neuralgia
Post-traumatic dysfunctions
Sciatica
Spondylolisthesis
Sports injuries
Sprains
Joint & Muscle Disorders
Paralysis
Detoxification
Osteoarthritis
Rheumatoid Arthritis
Sciatica
Spondylolisthesis
Cervical spondylosis
Bursitis
Patrapinda Sweda is also called Elakizhi which is a special therapy that is used for diseases related to bones, muscles and nerves. It is a form of treatment for sweating to provide pain relief. It reinvigorate and strengthens soft tissues, joints and muscles. Patra means "Medicinal Plant's Leave", Pinda means a "Bolus" and Sweda has a meaning "Formation".
This process is unique, including both Snehana (Olation) and Sweden (Sudanese) or (Snehyukutsdena). Patra Pinda Sweda (Elakizhi) refers to the treatment, in which the body parts need to be applied to heat using medicinal buds made of leaves.
In this process, leaves of different plants are selected for treating various disease and disorder. The commonly used leaves of plants include Eranda (RicinusCommunis), Nirgundi (VitexNegundo) and Arka (CalotropisGigante).
Treatment process:
The treatment process is divided into three parts...
• PURVA KARMA (PRE PROCEDURE)
• PRADHANA KARMA(MAIN PROCEDURE)
• PASHYAT KARMA (POST PROCEDURE)

PURVA KARMA (PRE PROCEDURE)
• Selection of Patient:
The selection of the patient for this procedure depends on the diagnosis which is done by a qualified doctor.
• Drug selection:
The leaves of various plants, which have pharmacological and therapeutic properties of relieving pain and swelling is selected according to the condition of the patient.
PRADHANA KARMA (MAIN PROCEDURE)
The main process of treatment given to the affected parts of the body.
PASHYAT KARMA (POST PROCEDURE)
After treatment, the person is advised to rest for a while.
Benefits of Elakizhi (Patrapindasweda)
• It strengthens and rejuvenates the bones, muscles and nerves.
• Strengthens the tissues.
• Increases the circulation.
• Provides color and complexion of the skin.
• Helps to reduce pain, inflammation, and stiffness of the muscles.
• Induces good sleep and reduces the stress.

INDICATIONS:
• Paralysis
• Joint stiffness
• Swelling
• Sciatica
• Cervical spondylitis
• Lumber spondylitis
• Back pain
• Arthritis
• Sprains and cramps

Elakizhi or PatraPindaSweda is LIKELY SAFE when done by a trained ayurvedic therapist under the supervision of an ayurvedic doctor.
Book now