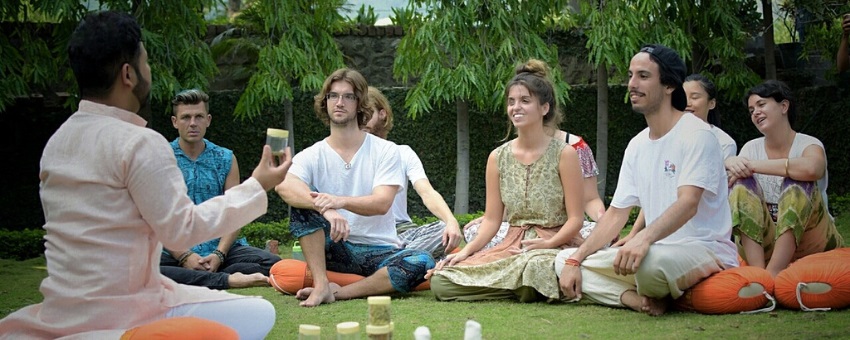 200 Hrs Ayur Yoga Teacher Training Course
Ayurveda (life science) is one of the ancient medical systems from India and Yoga is one of the ancient practice from India. Ayur Yoga helps you in deciding the right diet, lifestyle changes and psychological attitude towards your body.

To gain the knowledge of Ayurveda & Yoga simultaneously is the purpose of our school in Rishikesh, World Health Ayurveda!

We offer 200 Hours Ayur Yoga Teacher Training, on regular basis in Rishikesh, India. Our school in India is a forum where spiritual teachers, along with a background in the traditional community of yoga & Ayurveda School, associate the international students who want to delve into yoga on and off the mat. Our professional and experienced teachers teach Yoga and Ayurveda which is designed in such a way that you will get the benefit of all three together and get the maximum advantage in minimum time. Teachers at our school feel pleasure to teach you!

You can join our course with either purpose: if you want to get rid of disease or ailments you are suffering since long or if you want to teach & share the knowledge of yoga with the world.


200 Hours Certification Course
To get the certification for Ayur Yoga teacher training, one has to complete all the curriculum, assignments and exams for 200 hours Ayur Yoga TTC. This Ayur yoga course includes yoga classes and Ayurveda sessions, as they are an integral part of Ayuryoga.

Apart from physical practices, we share our philosophy of a dynamic life with the knowledge of the peaceful heart and love and smile. We are also passionate about the spiritual and cultural exchanges between East and West through art and culture.

Our Ayurvedic food helps to makes your routine, in good vitality which includes sound sleep and your work attitude.
"So, If you're seeking a good Ayur Yoga India training course, look no further beyond World Health Ayurveda in Rishikesh, India!"
200 Hrs Ayur Yoga TTC Course Dates 2018
| Dates | Events | Price (USD) | Enrolment |
| --- | --- | --- | --- |
| 02 /07/ 2018 - 28 /07/ 2018 | Yoga Alliance USA Certification | $1799 (Private room) | Completed |
| 02 /08/ 2018 - 28 /08/ 2018 | Yoga Alliance USA Certification | $1799 (Private room) | Ongoing |
| 02 /09/ 2018 - 28 /09/ 2018 | Yoga Alliance USA Certification | $1799 (Private room) | Apply Now |
| 02 /10/ 2018 - 28 /10/ 2018 | Yoga Alliance USA Certification | $1799 (Private room) | Apply Now |
| 02 /11/ 2018 - 28 /11/ 2018 | Yoga Alliance USA Certification | $1799 (Private room) | Apply Now |
| 02 /12/ 2018 - 28 /12/ 2018 | Yoga Alliance USA Certification | $1799 (Private room) | Apply Now |
200 Hrs Ayur Yoga TTC Course Schedule
| Timing | Work |
| --- | --- |
| 5:45 AM | Wake Up |
| 6:00 AM | Herbal Tea |
| 6:15 AM - 6:30 AM | Shatkarma |
| 6:30 AM - 7:00 AM | Pranayama |
| 7:00 AM - 8:45 AM | Yoga Asanas Class |
| 9:00 AM | Breakfast |
| 9:30 AM- 10:30 AM | Yoga Anatomy & Physiology |
| 10:45 AM - 12:00 PM | Meditation & Mantra Chanting |
| 12:30 PM - 1:00 PM | Lunch |
| 1:00 PM - 3:00 PM | Self Study |
| 3:00 PM - 4:00 PM | Yoga Philosophy |
| 4:30 PM - 6:30 PM | Yoga Asana Teaching Methodology, Alignment & Correction class |
| 7:00 PM - 7:30 PM | Dinner |
| 10:00 PM | Gates Closed & Lights off |
Book now