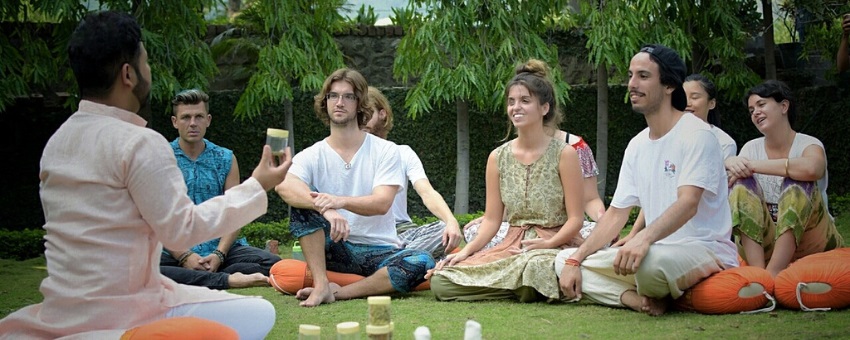 50 Hrs Ayur Yoga Teacher Training Course
Experience the healing power of Ayurveda!

With the divine wisdom of Ayurveda and Yoga; 50 Hour Ayur Yoga TTC at World Health Ayurveda, get the immense knowledge of Ayurveda & Yoga simultaneously.

Benefit your health, live with more purpose, power, clarity and bliss at this transformational course with World Health Ayurveda!

Ayurveda and Yoga is the powerful healing science of India. With the knowledge of Ayurveda's enlightenment, we get a gift of more insight, sensitivity and understanding in our life.

So, let's start the journey to become a true healer with 50 Hours Ayur Yoga TTC in Rishikesh.

The teaching of AyurYoga is related to diet, lifestyle, mental, physical and spiritual health; you will learn to apply them in your day to day life to found extra, prosperity, health and happiness.

Connect with your Prakriti: 50 Hours Ayur Yoga TTC helps you in balancing your body, mind and spirit. Practice this knowledge to settle peace and purpose in your life


Ayur Yoga for the Doshas
The misleading lifestyle, lethargic routine and improper eating habits worsen the Doshas. Balancing the three Doshas or constitutional; Vata, Pitta and Kapha is the major process in Ayur Yoga.We will teach you how to balance these three doshas with our Ayur Yoga Course at World Health Ayurveda . It works as a powerful medicine when used wisely.

In Yoga practice, movement of life, or life force or energy is important. Understanding the deeper principles of this life-force energy through Ayurveda and Yoga gives us insight into indexed practices to solve various energetic needs. To bring freedom, awareness and flow, we will discuss and practice Yoga posture through Ayurvedic lenses. After completing this course, you will be able to create your own treatment with Ayur Yoga.
So, Visit World Health Ayurveda and experience the beauty of Ayurveda & Yoga together!
50 Hrs Ayur Yoga TTC Course Dates 2018
| Dates | Events | Price (USD) | Enrolment |
| --- | --- | --- | --- |
| 02 /07/ 2018 - 06 /07/ 2018 | Yoga Alliance USA Certification | $600 (Private room) | Completed |
| 02 /08/ 2018 - 06 /08/ 2018 | Yoga Alliance USA Certification | $600 (Private room) | Completed |
| 02 /09/ 2018 - 06 /09/ 2018 | Yoga Alliance USA Certification | $600 (Private room) | Apply Now |
| 02 /10/ 2018 - 06 /10/ 2018 | Yoga Alliance USA Certification | $600 (Private room) | Apply Now |
| 02 /11/ 2018 - 06 /11/ 2018 | Yoga Alliance USA Certification | $600 (Private room) | Apply Now |
| 02 /12/ 2018 - 06 /12/ 2018 | Yoga Alliance USA Certification | $600 (Private room) | Apply Now |
50 Hrs Ayur Yoga TTC Course Schedule
| Timing | Work |
| --- | --- |
| 5:45 AM | Wake Up |
| 6:00 AM | Herbal Tea |
| 6:15 AM - 6:30 AM | Shatkarma |
| 6:30 AM - 7:00 AM | Pranayama |
| 7:00 AM - 8:45 AM | Yoga Asanas Class |
| 9:00 AM | Breakfast |
| 9:30 AM- 10:30 AM | Yoga Anatomy & Physiology |
| 10:45 AM - 12:00 PM | Meditation & Mantra Chanting |
| 12:30 PM - 1:00 PM | Lunch |
| 1:00 PM - 3:00 PM | Self Study |
| 3:00 PM - 4:00 PM | Yoga Philosophy |
| 4:30 PM - 6:30 PM | Yoga Asana Teaching Methodology, Alignment & Correction class |
| 7:00 PM - 7:30 PM | Dinner |
| 10:00 PM | Gates Closed & Lights off |
Book now